High efficiency Professional Hydraulic Cutter Suction Dredger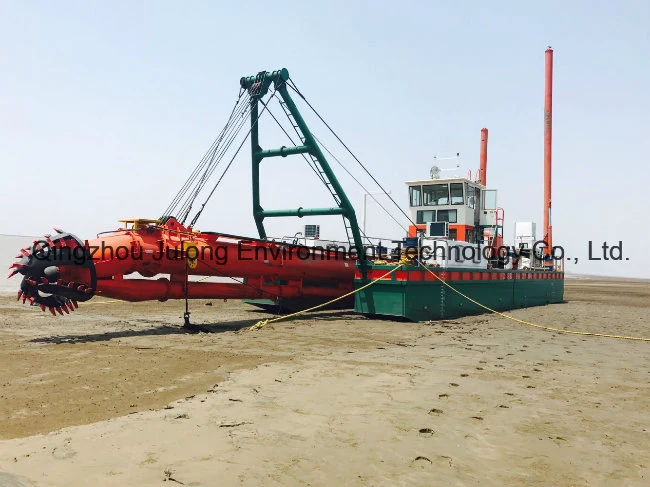 Product Description
JLCSD series dredgers can be applied to many kinds of geologic structures and can be widely used in mineral digging, port dredging and reclamation works. By absorbing advanced technology of Dutch and American related products, this series of dredgers show their characteristics of rational design, all hydraulic driven, simple operation, little maintenance and strong power. The capacity of JLCSD dredgers range from 100m3/hr to 6000m3/hr, dredging depth from 1m to 25m and discharge distance from 500m to 3000m, which can satisfy different work demands.
Specifications
Type

JLCSD200

JLCSD250

JLCSD300

JLCSD400

JLCSD450

JLCSD500

JLCSD550

JLCSD600

21*4.8*1.4

25*5.2*1.6

27*5.4*1.6

33*6.4*1.8

38*7.3*2.0

40*7.8*2.0

44*8.8*2.2

48*9.0*2.4

Dredging depth

8m

10m

12m

14m

15m

16m

18m

20m

Discharge distance

800m

1000m

1200m

1500m

1500m

1800m

1800m

2000m

Slurry Capacity

500m3/h

800m3/h

1200m3/h

2200m3/h

3000m3/h

3500m3/h

4500m3/h

6000m3/h

Cummins Engine

224kw

336kw

559kw

746kw

895kw

1231kw

1690kw

2190kw

Power at motor

30kw

40kw

60kw

100kw

130kw

170kw

220kw

300kw

Operation system

Siemens System

The parameters are only for reference. Customized specification is available.
Product Overviews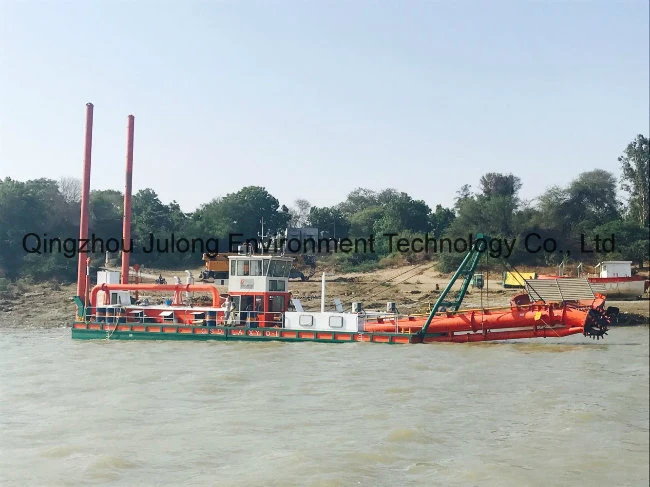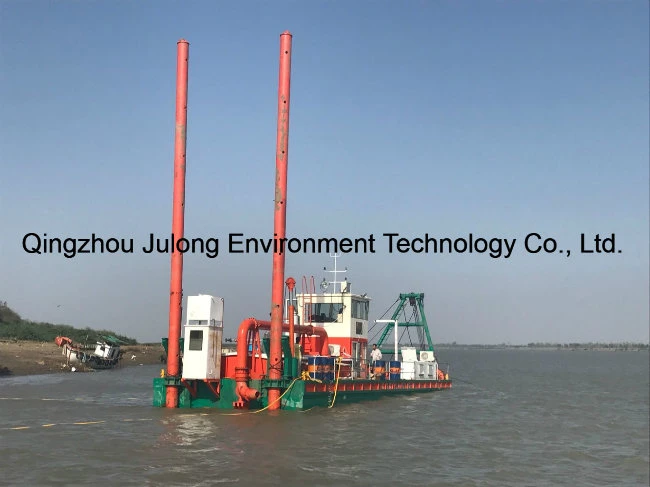 Certifications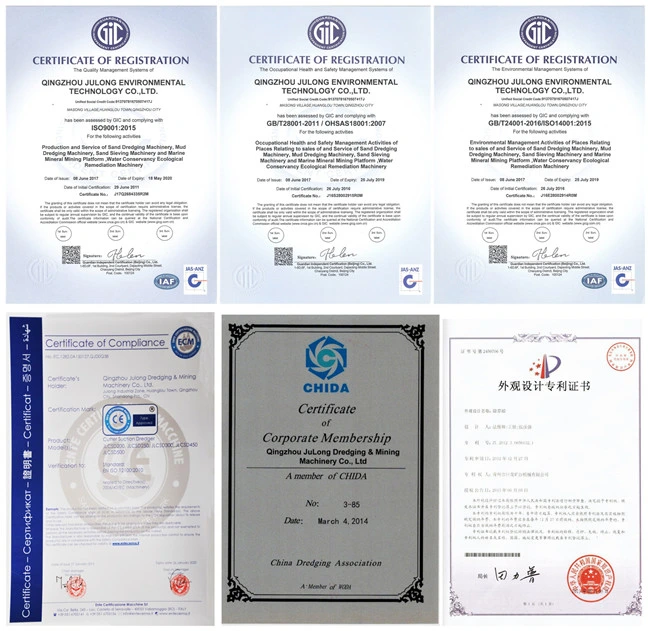 Advantages
1. Great Adaptability. The cutter suction dredgers can be widely used in river, lake, sea, reservoir and so on for sand/mud dredging, waterway cleaning and reclamation work.
2. High Efficiency. The cutter suction dredgers can dredge and discharge sand/mud at the same time without other ships for transportation. So the cost will be much lower and they can reach big production capacity of several thousand cubic meters per hour and also several thousand meters discharge distance.
3. Easy Operation. With hydraulic system and PLC control system, all the dredgers operation can be done in the operation cabin.
4. Quick disasembly and assembly.
Our Services
1. We sign a long-time after-sale service agreement with customers.
2. We provide rational and practical design according to customer's request.
3. We send engineer to assemble and test the machine within the period as agreed in the agreement.
4. Within warranty period, we provide free repair if quality problems emerge.
5. We provide free training of operation and maintenance for customers.
6. We supply high quality accessories in low price.
7. We make an excellent filing of customers for long-term following-up service.
Company Information
Qingzhou Julong Environment Technology Co., Ltd., located in Qingzhou City , China, is a professional manufacturer of dredgers, mining machinery, aquatic weed harvesters and sand processing machinery with more than 20 years' experience. With an excellent technology team, we can design and manufacture high-quality dredgers and machinery according to customers' requests. Our products are famous for easy operation, reliable performance, low cost and long working life. Julong machines have been exported to dozens of countries like India, Indonesia, Philippines, Bangladesh, Brunei, Laos, Nigeria, Congo, DR Congo, Sudan, Brazil and so on.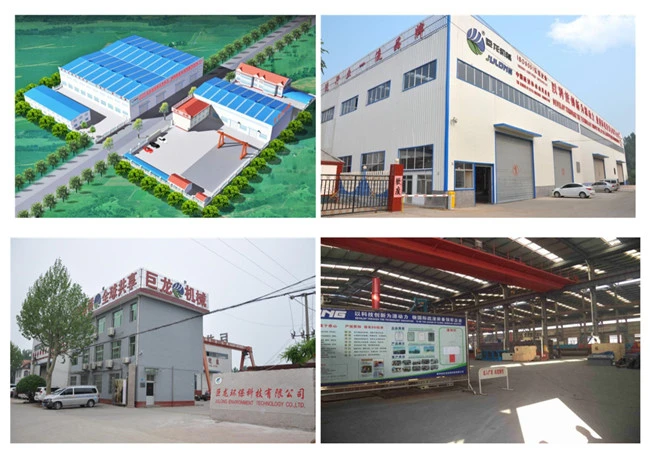 Feel free to contact me aboute cutter suction dredger: