Tungsten Carbide TBM Cutter Inserts
1. What is Tungsten Carbide?
Tungsten carbide
(chemical formula: WC) is a chemical compound (specifically, a carbide) containing equal parts of tungsten and carbon atoms. In its most basic form, tungsten carbide is a fine gray powder, but it can be pressed and formed into shapes for use in industrial machinery, cutting tools, abrasives, armor-piercing rounds, other tools and instruments, and jewelry.
2. What could our tungsten carbide inserts do?
Jinan Xinyu Cemented Carbide Co., Ltd
has developed Tungsten Carbide Buttons in various grades
suitable for use in products like Down The Hole Drilling Bits, Tricon Rock Roller Bits, Special bits required for underground cable laying, etc. We can supply the buttons in ground and tumbled finish which facilitates perfect fitting in shank.
3. What are the similar products?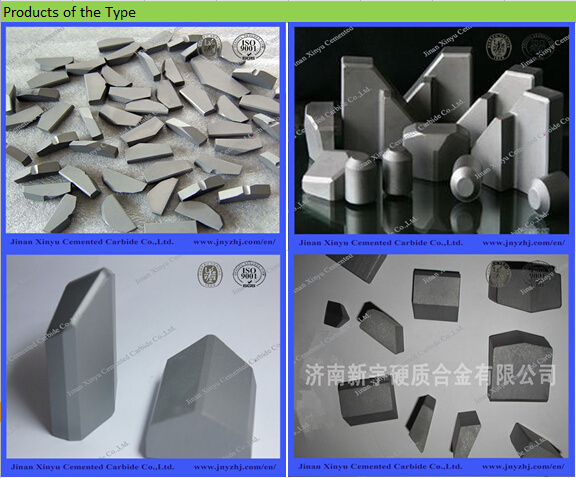 4. What's the history of Jinan Xinyu Cemented Carbide Co., Ltd?
Founded in 2002,
Jinan Xinyu Cemented Carbide Co,.Ltd.
is a large licenced import and export enterprise integrating R&D, manufacture and trade of cemented carbide in a whole and has strong R&D ability and advanced production facilities. Our products are exported to more than 50 contries and regions across the world including the United States, Canada, Italy, Japan, Korea, Taiwan etc. The cemented carbide and related products of our company is of excellent performance and quality and sold well both at home and abroad . Our company has passed the ISO9001 surveillance and assessment and been praised as the first class AAA credit company.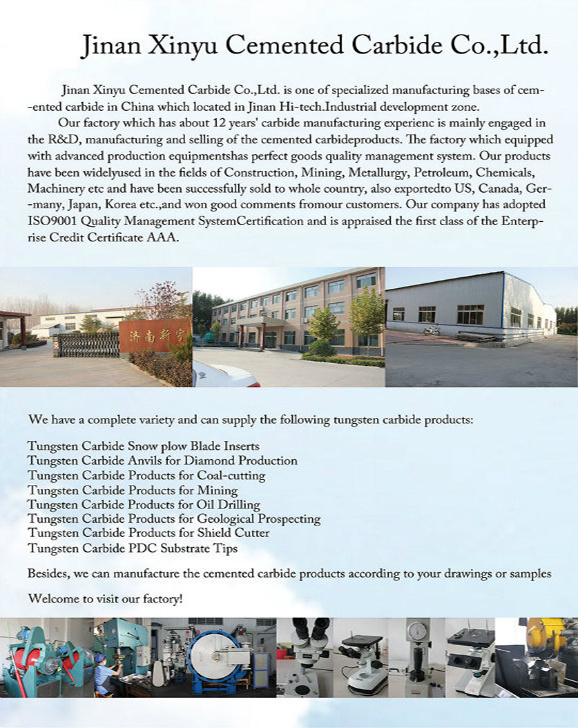 5. What kind of advantages do we possess?
1) Free sample
2) Direct factory produce and sale
3) All kinds of grades are available
4) Custom made available
5) Precision processing and strict product inspection
6) Advanced Equipment and professional technicians
7) Gurantee the bulk quality are in accordance with the samples
8) ISO 9001-2008 Quality Control System
9) 100% virgin tungsten carbide powder
10) High speed cutting, wears well & long service life
11) High hardness, high strength, wear resistance
12) 12years professional experience
6. What kind of products can we supply?
1) Carbide drawing dies;
2) Carbide rods;
3) Carbide strips;
4) Carbide inserts;
5) Carbide disc cutters;
6) Carbide balls/ tire studs;
7) Carbide drilling bits;
8) Carbide Plates;
9) Carbide cold-forging dies;
10) Other customized items.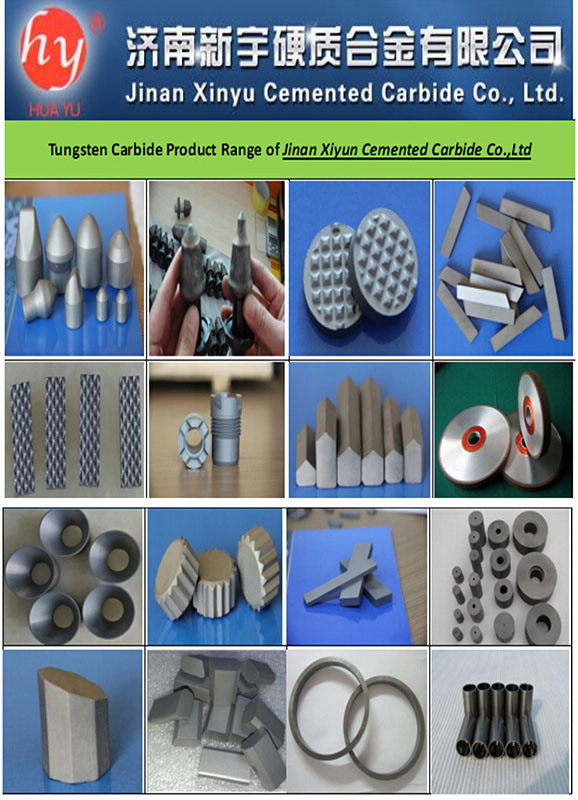 7. What are the grades, properties and applications of our Tungsten Carbide?
| | | | | |
| --- | --- | --- | --- | --- |
| Grades | Density(g/cm³) | Hardness(HRA) | T·R·S(N/mm2) | Application |
| YG4C | 15.00 | 89.5 | 1800 | Mainly used as small buttons for percussion bits and as the inserts of rotary prospecting bits to cut soft, medium-hard formations. |
| YG6 | 14.80 | 89.5 | 1700 | Mainly used as the buttons of small and medium-sized percussion bits and as the inserts of rotary prospecting bits to cut soft, medium-hard formations. |
| YG8 | 14.70 | 88.5 | 2300 | Mainly used as the buttons of small and medium-sized percussion bits and as the inserts of rotary prospecting bits to cut soft, medium-hard formations. |
| YG8C | 14.70 | 88.0 | 2300 | Mainly used as the buttons of small and medium-sized percussion bits and as the inserts of rotary prospecting bits to cut soft, medium-hard formations. |
| YG9C | 14.50 | 87.0 | 2400 | Mainly used as the inserts and buttons for rotary-percussive bits, coal-cutting bits and tricone bits to cut medium-hard and hard formations. |
| YG11C | 14.40 | 86.5 | 2450 | Mainly for the inserts and buttons of heavy rock drill bits and rotary-percussive bits, coal-cutting bits and tricone bits to cut medium-hard and hard formations. |
| YG13C | 14.30 | 86.0 | 2500 | Mainly used as the inserts and buttons of tricone bits rotary-percussive bits and heavy rock drill bits to cut medium-hard and hard formations. |
| YG15 | 14.00 | 86.5 | 2500 | It is stronger, and is mainly used as the inserts and buttons of rotary-percussive bits, heavy rock drill bits to cut hard and very hard formations. |
| YG16 | 14.10-14.30 | 87.5 | 2400 | It is mainly used for making cemented carbide substrate tips to be used in PDC cutters for excavating coal and oil field PDC bits. |
| YG20 | 13.40-13.70 | 85.0 | 2254 | Mainly for the stamping dies used in the conditions of heavy impact load and large stress. |
8. What's the contact information of ours?

Company name: JINAN XINYU CEMENTED CARBIDE CO., LTD.

Address: Zhongmeng Village, Gaoguanzhai Town, Zhangqiu City, Shandong Province

Fax: 86-531-67897298

Phone: 86-531-67897298

Website: jinanxinyu.en.made-in-china.com