Cutter suction dredger for sale with cutter head




1. Technical Specifications of 10 inch Cutter Suction Dredger (Model JLCSD250 )
Principle Dimensions

(1) Max. Dredging Depth

8.0 m

(2) Discharge Distance

800 m

(3) Waterflow

800 m

3

/hr

Main Pontoon

(1)

Length

11.0 m

(2)

Width

2.2 m

(3)

Depth

1.6 m

Side Pontoons

(1)

Length

15.0m

(2)

Width

1.5m

(3)

Depth

1.6m

Dredging Pump

(1)

Made

Shijiazhuang Pump

(2) Model

10/8"

(3)

Waterflow

800 m

3

/hr

Main Engine

(1)

Manufacturer

Cummins

(2)

Rated Power with RPM

336KW @ 1800 RPM

(3) Qty.

1 set

Cutter

(1) Type

Crown

(2) Driver

Hydraulic Motor

(4)

Diameter

1000mm

(5)

Cutter Shaft Power

40kw

Ladder Winch

(1) Line Pull

60 KN

(2) Line Speed

0-20m/min

(3) Wire Size

Φ16mm

(4) Driver

Hydraulic Motor

Swing Winch

(1) Line Pull

40 KN

(2) Line Speed

0-20m/min

(3) Wire Size

Φ16mm

(4) Driver

Hydraulic Motor

Spuds

(1) Qty.

2 pcs

(2) Driver

Hydraulic Cylinder

2. General Introduction of JULONG Cutter Suction Dredgers
The Cutter Suction Dredgers are of steel construction, non self-propelled, dismountable type, which are able to berth and dredge at any waters both in the coastal area and inland rivers.
- Dredging depth: 12m
- Dredging capacity: 1200m3/hr mixture capacity
- Discharge distance: 0-1000m or more with booster pump station
- Usage: sand dredging, waterway cleaning, reclamation work, mining job, etc.
- Optional Device: 1) Spud Carriage;
2) Booster Pump Station;
3) Discharge Pipeline;
4) Swivel Joint;
5) Work Boat;
6) Bucket Wheel Cutter;
7) Auger Head;
8) Deck Crane;
9) others based on buyer's need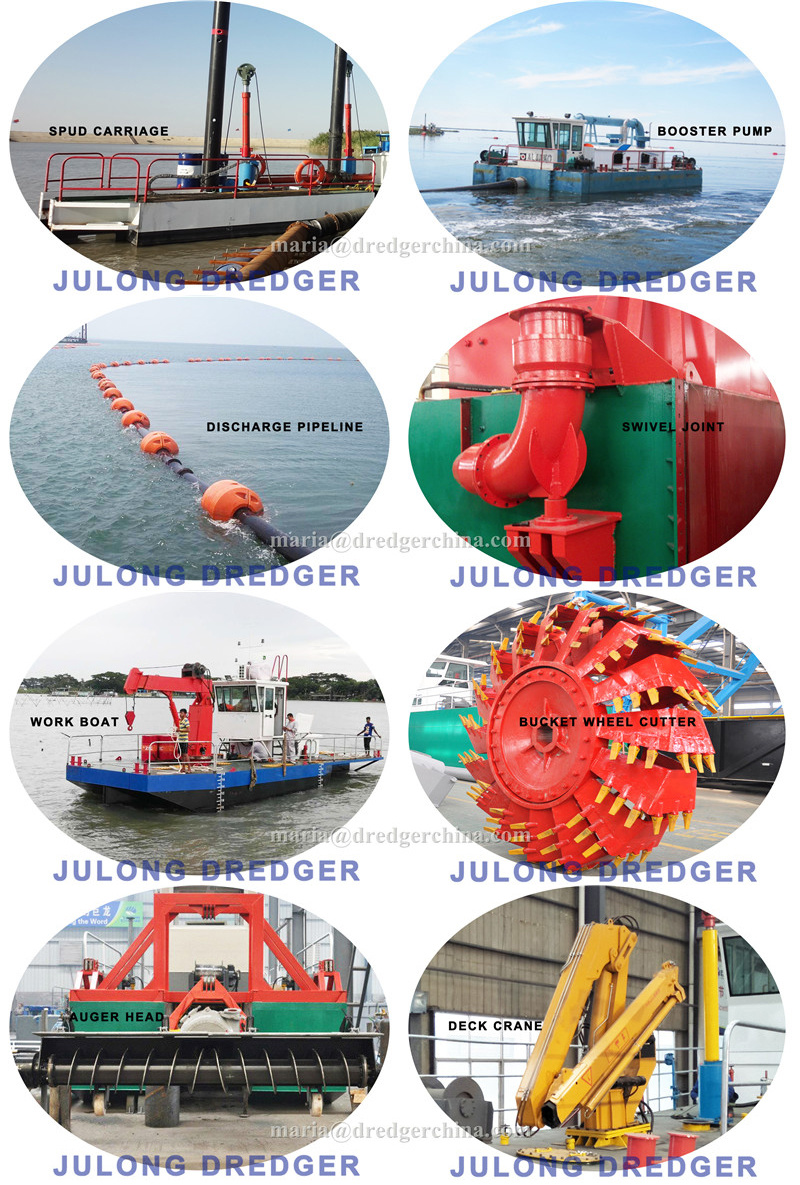 3. Technical Specifications of Julong Main Cutter Suction Dredgers for reference
(Customized design is available.)
Ser.
Model
Dredging Capacity
Dredging
Depth
Dimensions
Suction/
Discharge
Pipe Dia.
Engine(s)
Power

1

JLCSD-200

500m3/hr

1-8m

21*4.8*1.4m

250/200mm

224kw

2

JLCSD-250

800m3/hr

1-10m

25*5.2*1.6m

300/250mm

336kw

3

JLCSD-300

1200m3/hr

1-12m

27*5.4*1.6m

350/300mm

559kw

4

JLCSD-400

2200m3/hr

1-14m

33*6.4*1.8m

400/400mm

746kw

5

JLCSD-450

3000m3/hr

1.5-15m

38*7.3*2.0m

500/450mm

895kw

6

JLCSD-500

3500m3/hr

1.5-16m

40*7.8*2.0m

600/500mm

1231kw

7

JLCSD-550

4500m3/hr

1.5-18m

44*8.8*2.2m

650/550mm

1690kw

8

JLCSD-600

6000m3/hr

1.5-20m

48*9.0*2.4m

700/600mm

2190kw

4. Why Choose Julong Dredgers?
a. Customized designs is available according to clients project reqirement. We have our own design team and also support from China ship design institutes and professional colleges.
b. All our workders are skilled and have rich experience in the ship design for many years.
c. Reputed sprae parts wll used in dredger,like the world famous engine,pump, PLC control system and so on.
d. Every finished dredger will be tested before delivery to assure the dredger run smoothly.
e. Hydrualic system is one of the most inportant parts of the dredger. Equipment like cutter head, ladder winch, swing winth, spuds are driven by hydraulic motors. Reputed brand is used like Rexroth, Vikers, Yuken etc.
f.The cutter suction dredger is dismountable, which can be disassembled and assembled easily. Thus it can be transported more conveniently by road, rail, water.
g. Professional engineers will be sent to project site to help assemble, debugging, testing and training.
5. Julong Dredgers have been exported in more than 60 countries all over the world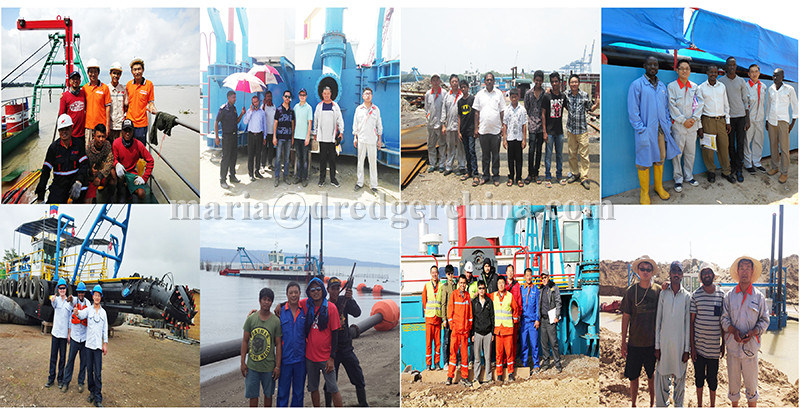 6. Brief Introduction of JULONG
Qingzhou Julong Environment Technology Co., Ltd. is a professional manufacturer of dredgers, aquatic weed harvester, gold & iron mining machinery and sand processing machinery, with about 30 years' experience. With an excellent technology team, we can design and manufacture highquality dredgers and machinery according to customers' requests. Our products are famous for easy operation, reliable performance, low cost and long working life. JULONG machines have been exported to about 60 countries in Southeast Asia, South Asia, Africa, and South America.

7. Julong Certificates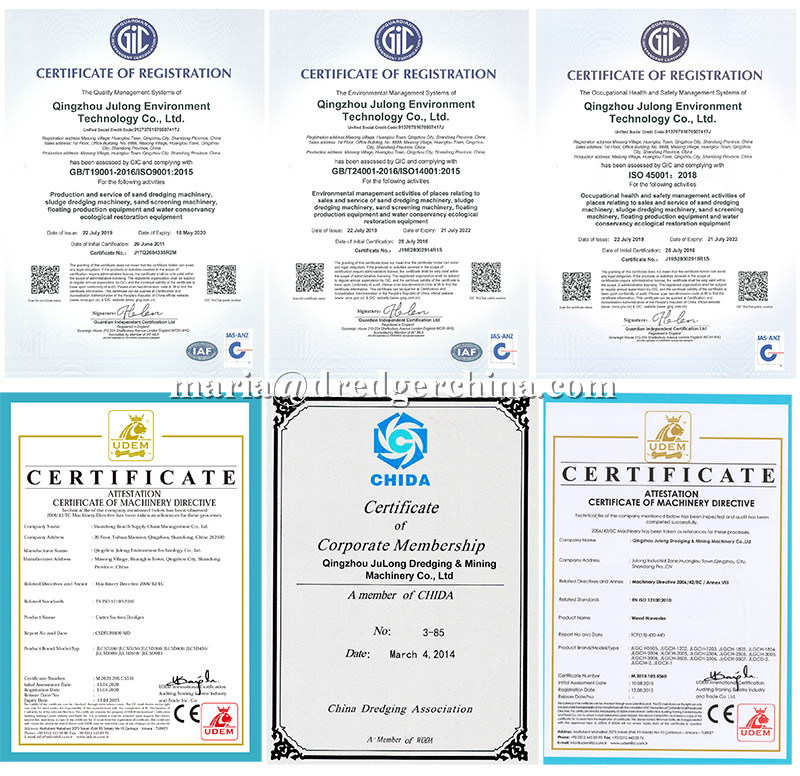 8. Julong Service and Promises:
a. JuLong company signs a long-time after-sale service agreement with customers.
b. we provided rational and practical design according to customers' request.
c. we send engineers to assemble and test the machine.
d. within warranty peride,we provide free repair if quality problems emerge.
e. we provide free training on operation and maintenance for customers.
f. we supply high quality accessories at low prices.
g. we make an excellent filing of customers for long term following-up service.

Contact Us