Mining Machinery Stone Impact Crusher Spare Parts Crusher Plate Hammer
Product Name: Shredder parts / Hammer head / Crusher hammer
Applications: Widely used in mining industry, metallurgical industry, construction industry, chemical industry and silicate industry for crushing hard and medium hard ore and rock, such as iron ore, limestone, copper ore, sandstone and so on.
Product Benefits:Compared with the general market products, our products smooth surface, accurate dimensions , high wear resistance and longer life. Direct sales by the company foundry, cost-effective products.

Main Features:
Competitive products:

Good quality with reasonable price

Material:

High manganese and customised materials

Use:

We can supply almost crusher parts

Quality

ISO9001 &TS and CE certificati

on
The double times harding processing technology of high manganese steel

The product Used life can be increased more than 30%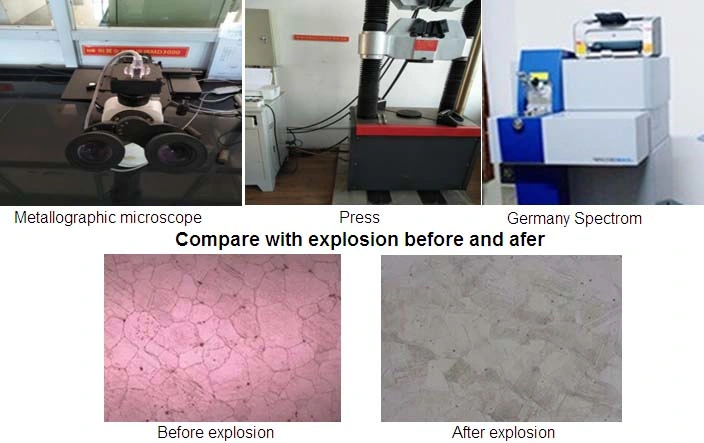 Material:
Following is our normal material component,we also can customize as your request
High Manganese Casting Material Chemical composition
| | | | | | | |
| --- | --- | --- | --- | --- | --- | --- |
| Material code | C | Mn | Si | Cr | P | S |
| ZGMn13Cr2 | C:1.0~1.3 | Mn:11~14 | Si:0.3~0.6 | Cr:1.7~2.4 | P:≤0.05 | S:≤0.03 |
| ZGMn18Cr2 | C:1.1~1.4 | Mn:17~20 | Si:0.3~0.6 | Cr:1.7~2.4 | P:≤0.05 | S:≤0.03 |
| ZGMn22Cr2 | C:1.1~1.4 | Mn:20~24 | Si:0.3~0.6 | Cr:1.7~2.4 | P:≤0.05 | S:≤0.03 |
Products Exhibition: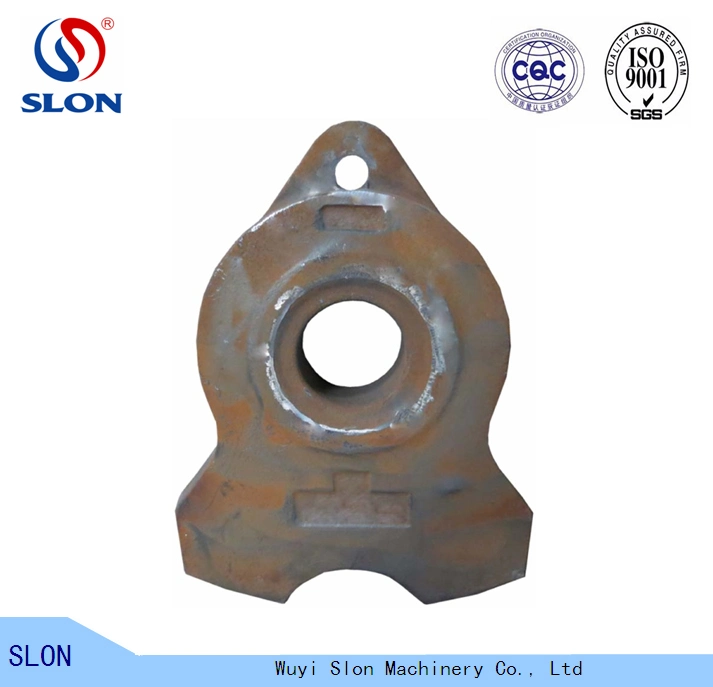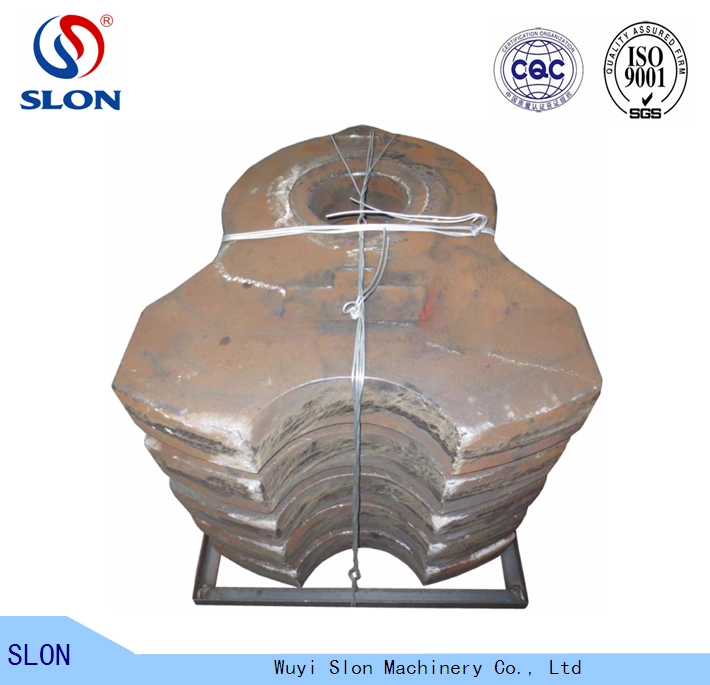 We can provide large batches:
Cone Crushe

r Parts

Jaw Crusher Parts

CH430

HP100

GP100S

2'

CJ208

C80

NP1213

PE250*400

CM1208i

UJ310

CH440

HP200

GP200S

3'

CJ209

C96

NP1313

PE400*600

CM1208F

UJ400i

CH660

HP300

GP300S

4'

CJ211(J11)

C100

NP1315

PE500*750

CM1211

UJ440E

CH870

HP400

GP500S

4800 4¼ '

CJ408(JM806)

C106

NP1415

PE600*900

CM1511

UJ540

CH880(H8800)

HP500

GP100

5100 5½ '

CJ409(JM907)

C110

NP1520

PE750*1060

UJ640

CH890

HP800

GP200

7'

CJ411(JM1108)

C116

NP1620

PE870*1060

JC2236

CH895

HP3

GP300

RC36

CJ412(JM1208)

C120

PE1200*1500

JC2248

CS420(S2800)

HP4

GP550

RC45

CJ612(JM1211)

C125

PE1400*1800

JS3042

CS430(S3800)

HP5

GP11

RC45-II

CJ613(JM1312)

C140

PEX250*750

JS3054

CS440(S4800)

HP8

MVP280

RC54

CJ615(JM1511)

C145

PEX250*1000

JC4248

CS660(S6800)

MP800

MVP380

RC60

CJ815(JM1513)

C160

PEX250*1200

JC3660

CS880(S8800)

Mp1000

MVP450

RC66

C200

PEX350*700

JC5460

MVP550

PEX300*1300
Packaging & Shipping
Packing: Steel pallet, comply with foreign trade standard.
Shipping: By Container.

Company Information:
WuYi Slon Machinery Co;Ltd is a professional manufacturer in wear parts.At Wear and Spare Parts we offer an extensive range of crusher wear parts for all jaw, cone and impact crushers of those Chinese Brand or Foreign Brand. All of our crusher wear parts are of the highest specification and are continuously tested gobally to make sure they are of premium quality.Wear and Spare Parts offer all hammers ,track shoe and blow bars, as well as extensive range of liner plates for all impact crushers on the market, meaning that for all your crusher wear part requirements, Wear and Spare parts offer a first class service to all our Global Customers.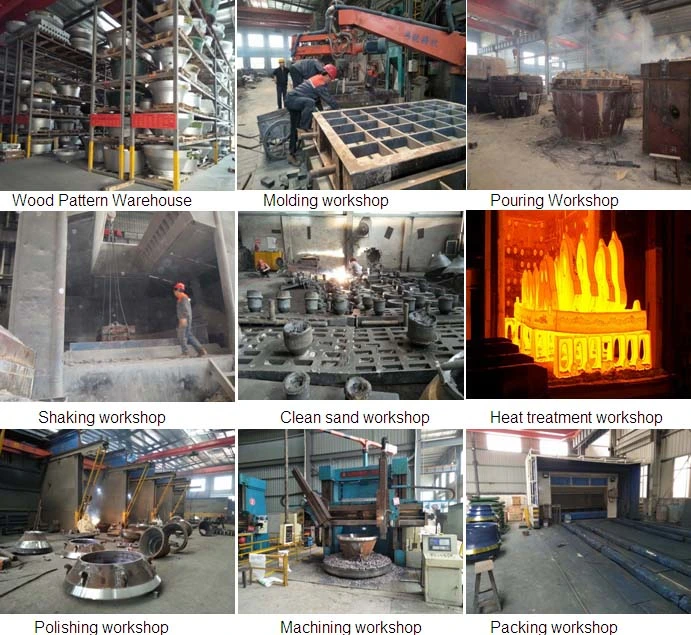 FAQ
Production process: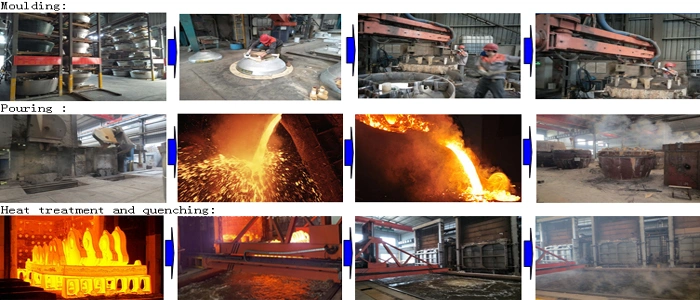 1. Q: What kinds of products do you offer?
A: SLon Machinery provided parts are mainly related to your machine. It ranges from the drill rod,excavator buckets and wheel loaders, crusher spare parts, construction machinery parts,brass bush, conveyor and screen spare parts, beneficial equipment spare parts, grinding mill spare parts, machining spare parts and other customized spare parts.
2. Q: What kind of materials are you familiar with?
A: We are familiar with carbon steel, alloy steel, standard wearing plate, high material steel, high chrome steel, casting iron, and bronze.We have begun to research ceramic insert material technology.
3. Q: Can you use foundry machining castings ?
A: Yes, the CNC machine can machine material hardness from HB200 to HRC62.The maximum
machining length is 8m and maximum width is 4m.
4. Q: What information do we need to provide to you in order to confirm our parts order?
A: We work with technical drawings for any non-standard products. If the order is for standard parts,you only have to provide us with the part number so we may define the parts of the order.
5. Q: Would you like to accept factory inspection?
A: We are greatly welcome to our factory for your inspection
6. Q: Why you have to choose us from multiple vendors?
A: We have an increasing presence in the global market for more than 15 years-Reputation.
7. Q: How do you judge sufficient components for our parts?
A: As long as the material is chosen, we shall strictly manufacture the parts according to standard.
8. Q: Except for your products, do you offer some other services or new business opportunities?
A: Yes, we provide lots of service to you as you can see on our service. Slon Machinery has lot of new ideas for working with you and keeping your business moving forward.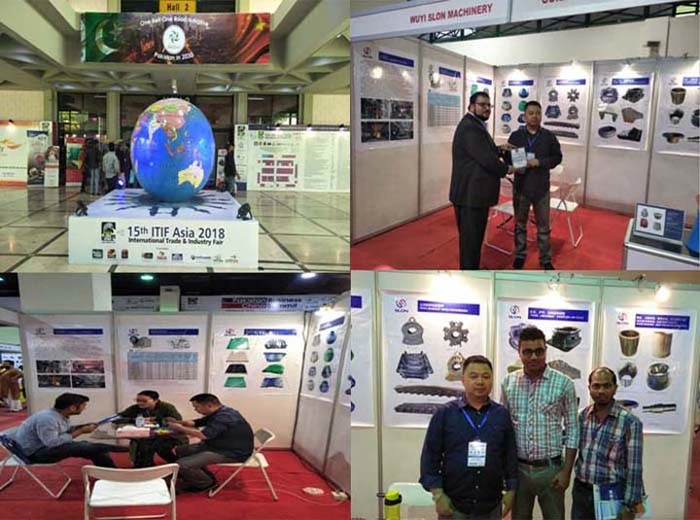 You can contact us from below ways:
| | | | |
| --- | --- | --- | --- |
| Tel : | 86-579-87603368 | FAX: | 86-579-87603368 |
| | | W: | Wuyi Slon Machinery Co., Ltd |