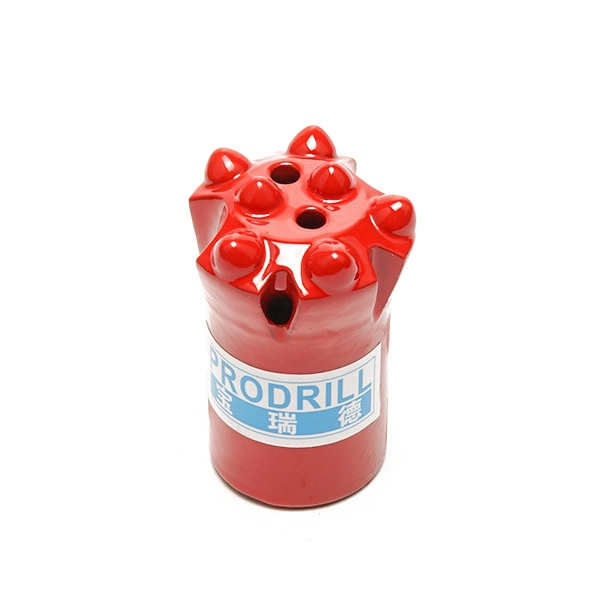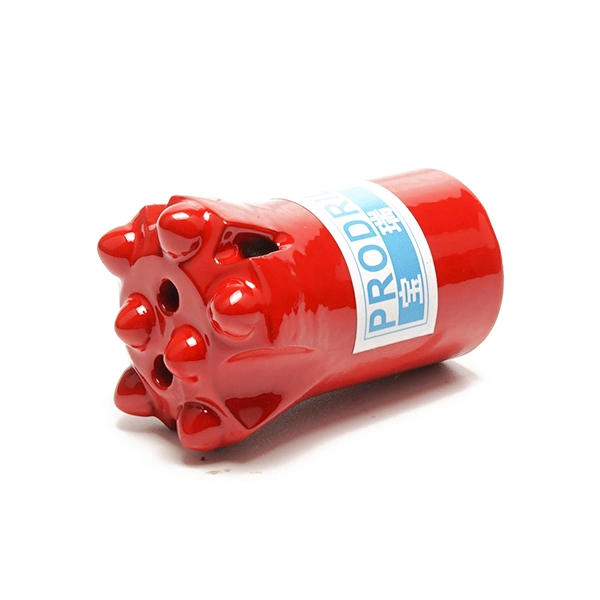 Description :
(1)MaterialAlloy Steel Bar 45CrNiMoV, Tungsten Carbide code YK05 or T6
(2)Bit Diameter:Diameter 32mm,34mm,36mm, 38mm,40mm
(3)Tapered connection: 6 degree, 7 degree, 11 degree, 12 degree etc.
(4)Connect shank Size: Φ19, Φ22, Φ25 at most
(5)Button Shape Ballistic Face Type Flat Face; Bit BodyStandard
(6)Qty of button: 5,6,7, 8 pcs
(7)main market: Norway, Spain India, Saudi, Chile, South Africa,stone country consume too much
Taper button bit as small hole bit is different with thread button bit as long hole bit to use taper match with bit with rod to be used for air leg or hand held jack hammer driller in quarrying,and mining.
Made with high quality of raw material through special heat treatment, especially, tungsten carbide of tapered button bits T6 are from Boart long year, widely applied in Hand Hold ( short-hole) drilling system for dimensional stone quarrying. At now, we are exporting the huge qty of Q7- 33- 7 22-80, Q9 -45 -12 22- 71 for Indian quarry and Norway, Finland quarry.
Diameter of bits from 30mm to 50mm with 4, 6, 7, 11, 12 degree, premium alloy tapered drill steel with Hexagonal. 22mm and Hexagonal. 25mm, The deliver capacity are very strong and can completely meet customer's requirements on delivery design, number of buttons is 4, 5, 6, 7, 8, 9, 7 buttons is very popular for hold held (short holes ) and blast drilling system.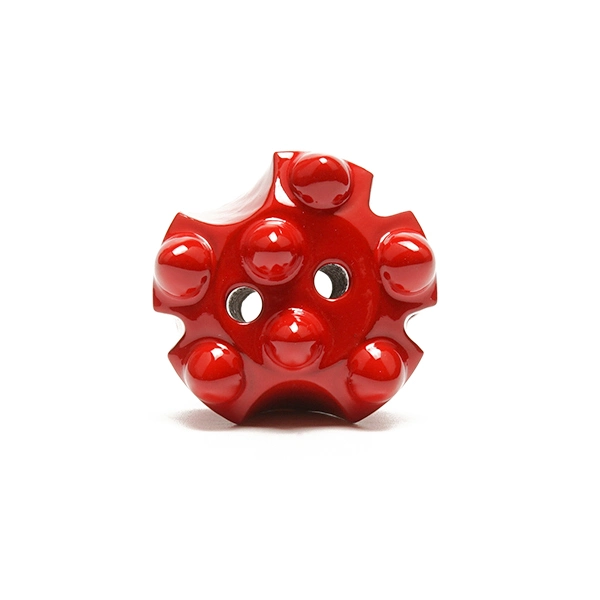 Specification :
Tapered button bits with 7degree for Hexagon 22.
Part number
Diameter in mm
Length in mm
Inserts
Diameter inserts
7D33-7
33
70
5+2 parabolic
7mm
7D33-8
33
70
6+2 parabolic
7mm
7D36-7
36
70
5+2 parabolic
5x8mm + 2x7
7D36-8
36
70
6+2 parabolic
6x8mm + 2x7
7D38-7
38
70
5+2 parabolic
5x9mm + 2x7
7D38-8
38
70
6+2 parabolic
6x9mm + 2x7
7D38-4
38
70
4 parabolic
4x9mm
7D40-7
40
70
5+2 parabolic
5x9mm + 2x7
7D40-8
40
70
6+2 parabolic
6x9mm + 2x7










Tapered button bitw with 11 degree for Hexagon 22.
Part number
Diameter in mm
Length in mm
Inserts
Diameter inserts
11D33-7
33
50
5+2 parabolic
7mm
11D33-8
33
50
6+2 parabolic
7mm
11D36-7
36
50
5+2 parabolic
5x8mm + 2x7
11D36-8
36
50
6+2 parabolic
6x8mm + 2x7
11D38-7
38
50
5+2 parabolic
5x9mm + 2x7
11D38-8
38
50
6+2 parabolic
6x9mm + 2x7
11D38-4
38
50
4 parabolic
4x9mm
11D40-7
40
50
5+2 parabolic
5x9mm + 2x7
11D40-8
40
50
6+2 parabolic
6x9mm + 2x7










Tapered button bits with 12 degree for Hexagon 22.
Part number
Diameter in mm
Length in mm
Inserts
Diameter inserts
12D32-7
32
50
5+2 parabolic
7mm
12D32-8
32
50
6+2 parabolic
7mm
12D33-7
33
50
5+2 parabolic
7mm
12D33-8
33
50
6+2 parabolic
7mm
12D36-7
36
50
5+2 parabolic
5x8mm + 2x7
12D36-8
36
50
6+2 parabolic
6x8mm + 2x7
12D38-7
38
50
5+2 parabolic
5x9mm + 2x7
12D38-8
38
50
6+2 parabolic
6x9mm + 2x7
12D38-4
38
50
4 parabolic
4x9mm
12D40-7
40
50
5+2 parabolic
5x9mm + 2x7
12D40-8
40
50
6+2 parabolic
6x9mm + 2x7