Hyton produce High manganese casting liners mainly include Mantle, Bowl Liner, Feed Cone , jaw plate, check plate, Arm Liner , Steel Ball ,and etc, Hyton's casting wear parts can suit lots of world famous crushing equipment brand suach as : Nordberg,Sandvic,Telsmith,Terex ,Symons ,Trio ,Kleeman ,Extec and etc.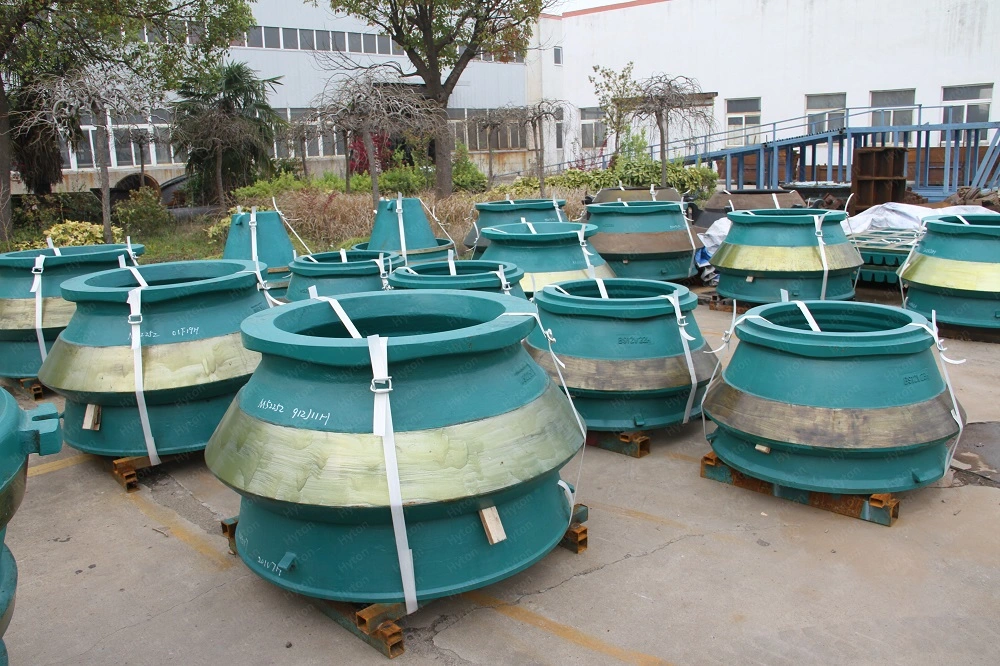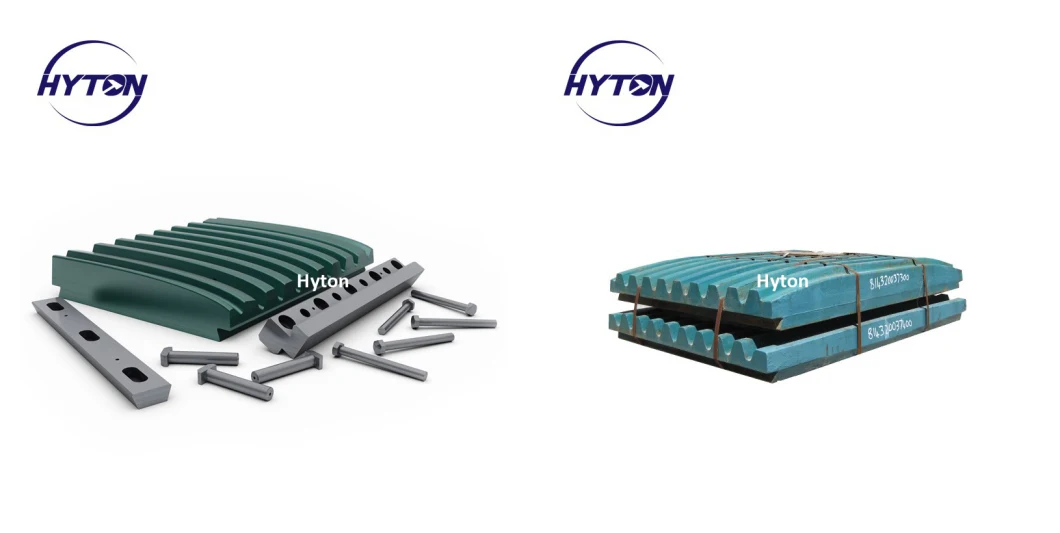 Type suit for cone crusher
GP100 GP200 GP300 GP500 GP11F GP220 GP550 GP100S GP200S GP300S GP500S
CH420 CH430 CH440 CH660 CH870 CH880 CS420 CS430 CS440 CS660
HP100 HP200 HP300 HP400 HP500 HP700 HP800 HP4 HP5 HP6
Terex:C-1540 C-1540R C-1545 C-1545P C-1550 C-1550P C-1554
Telsmith:T300 T400 T500 T900
Trio:TP260 TP350 TP450 TP600 TP900

Type suit for jaw crusher
C63 C80 C95 C96 C105 C106 C100 C110 C120 C125 C140 C145 C150 C160 C200
CJ408 CJ409 CJ411 CJ412 CJ612 CJ612 CJ613 CJ615 CJ815 JM806 JM907 JM1108 JM1206 JM1208 JM1211 JM1312 JM1511 JM1513
TEREX: J-1170 J-1175 J-1170AS J-1160 J-960 J-1480
TELSMITH: H2238 H2550 H3244 H3450
TRIO : CT1030 CT1040 CT1048 CT1252 CT2036 CT2436 CT3042 CT3254 CT3254B CT3648 CT4254 CT4763 CT6080
Main Features
1.20 years experience ,High wear resistance feature,long life time.
2.Production capability: 30000 tons Per year.
3.Certified by ISO system certification.
4. Large amount of stock for customer with competitive price.
5. OEM service available.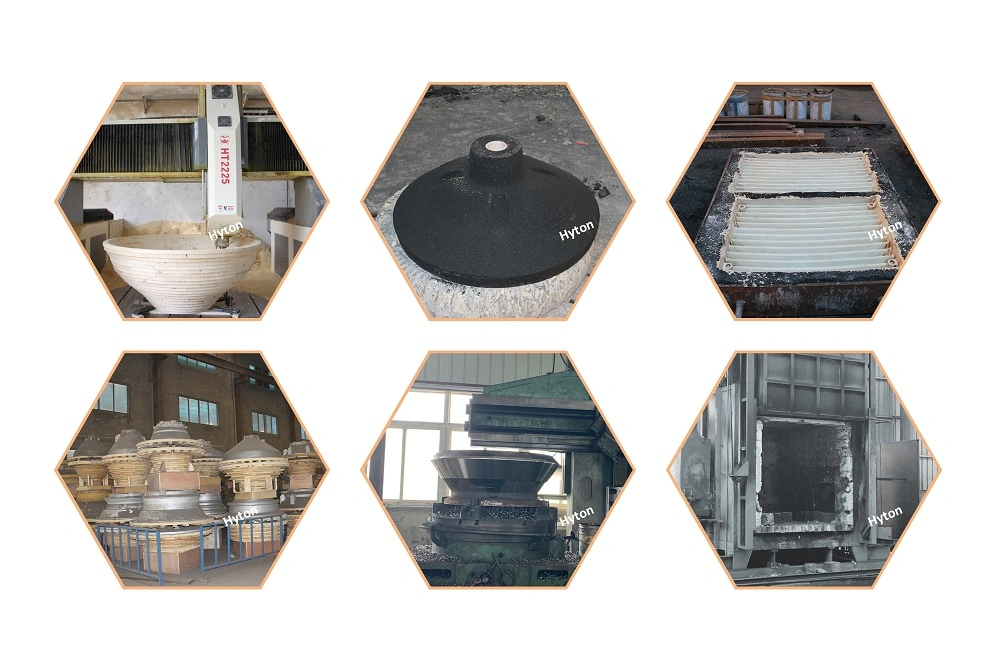 High Chrome Casting Liners :
Hyton produces High Chrome casting liners mainly include Blow bar,hammer plate ,hammer head ,impact plate and etc, Hyton's casting wear parts can suit the crusher brand like : Sandvik,Telsmith,Terex ,Syomons ,Trio ,Kleeman ,Extec and etc, High Chromeparts are available from 15% to 26% High alloys.
With chromium steel, the carbon is chemically bonded in the form of chromium carbide. The wear resistance of chrome steel is based on these hard carbides of the hard matrix, whereby the movement is hindered by offsets, which provides for a high degree of strength but at the same time less toughness.
Company Profile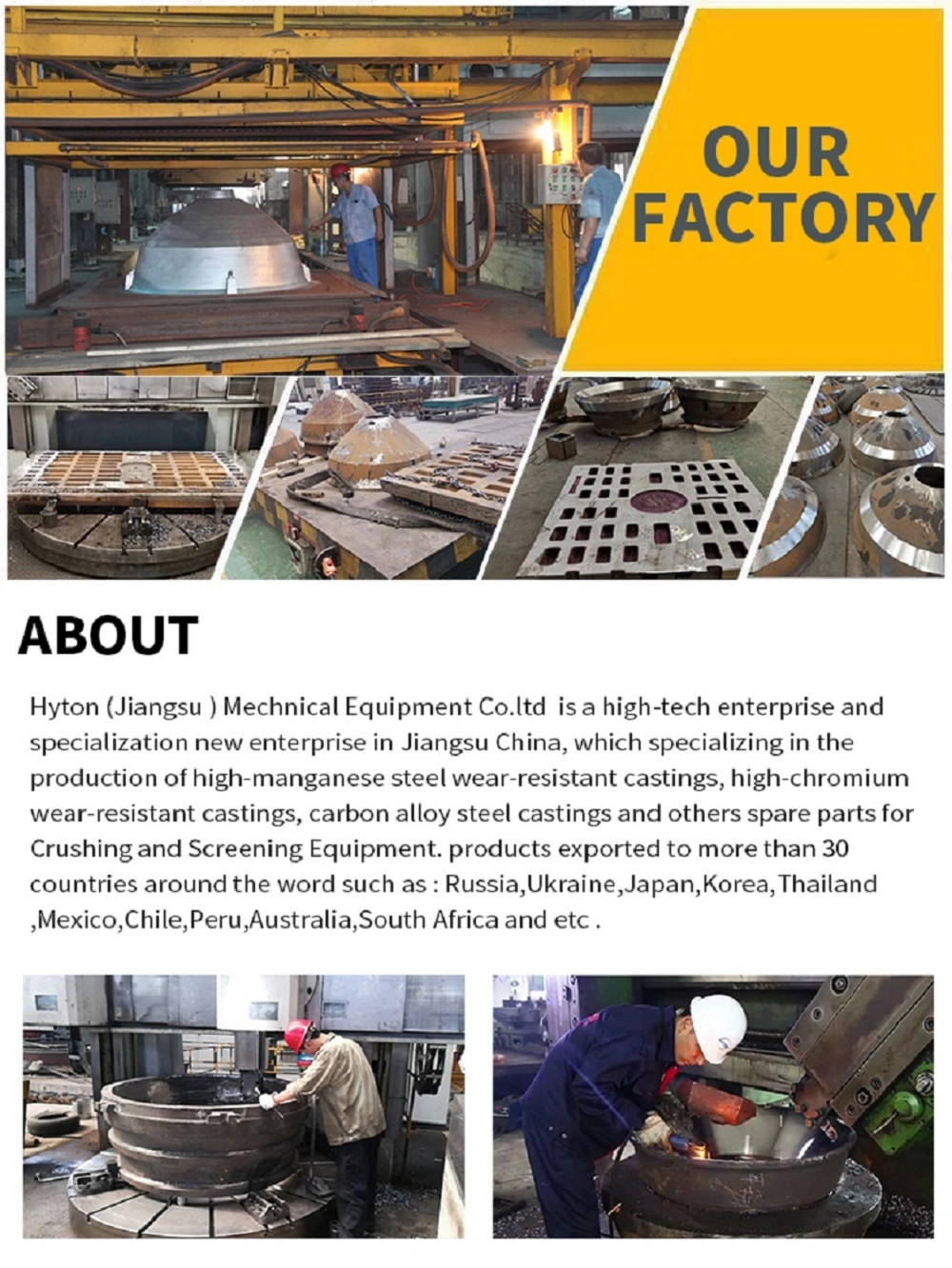 After goods packaged well , we need only 1 day ship good to shanghai port ,which means that most of the spare parts you bought from Hyton ,it will get your port within 30 days all around the world if ship by sea.
1)Your inquiry related to our product & price will be rapidly.
2) Well trained & experienced staff are to answer all your inquiries in English of course.
3) Your business relationship with us will be confidential to any third party.
4) One stop purchase service: extensive rang of products for qualified offering.
5) We response to client's inquiry within 12 hours.