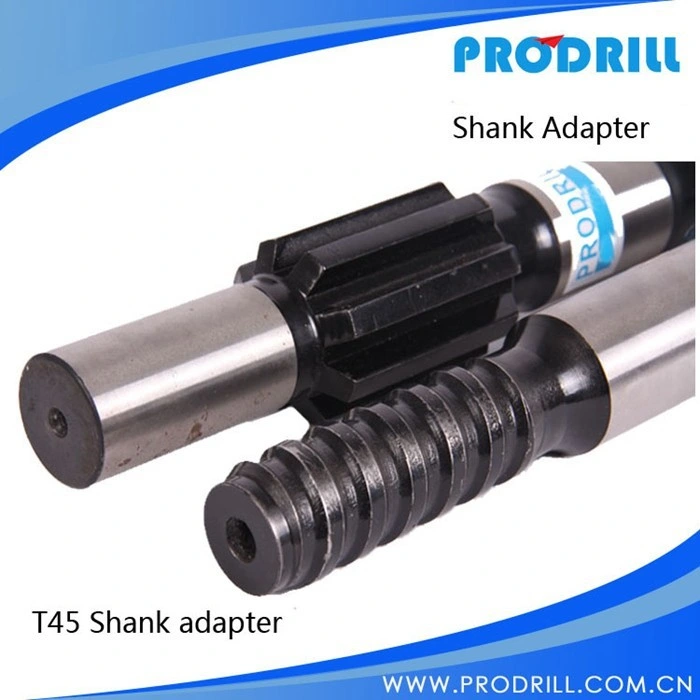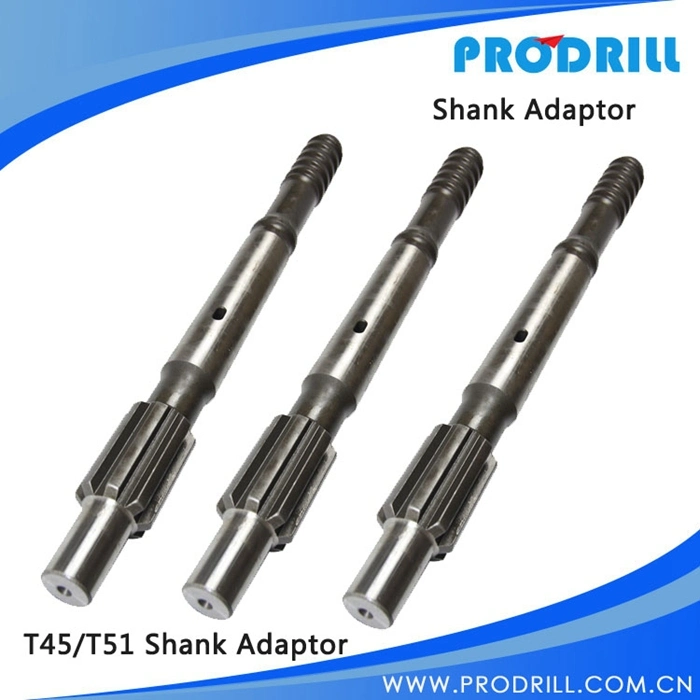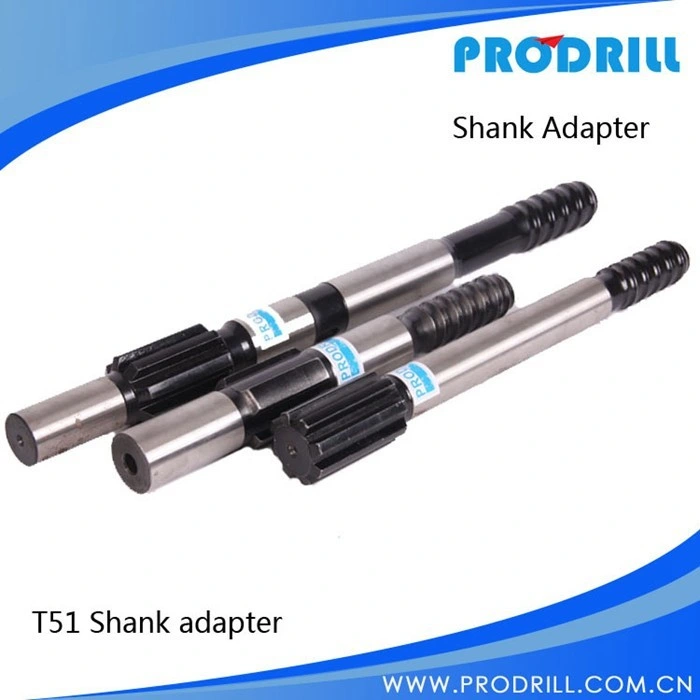 Shank adaptor or shank adapter, the task of the shank adapter is to transmit rotation torque, feed force, impact energy and flushing medium to the drill string.
The shank adapters from Pro-drill are there fore designed to with stand the high impact power of modern rock drills and made from specially selected material which also is hardened through cauterizing.Around 300 different shank adapters suitable for different rock drills are currently available from Atlas Copco series drifters, Tamrock series drifters, Garden Dever series drifters etc.

Product Name:
shank adaptor
Description:
shank adaptor
Shank adaptor is used for transmitting power between drill machine and drill stems.
MOQ:
No MOQ required for testing and trial order
Thread:
R32,R38,T38,T45,T51
Length:
300mm-800mm
our shank adaptors are available for :



(COP1238,COP1838,COP1032 etc)
(HD715,HD612,HD609,PD200 etc)
(VL140,VL671,YH80A etc)
(HLX5,HL600,HL500,HL300,HL700,HL850,HL1000,HL1500 etc)

Main Products:
1-12 inch middle-low/high air pressure DTH hammers & bits
Big hole high air pressure DTH hammer using in water well, oil, gas and construction drilling
Eccentric overburden drilling Equipment
Hole opener bit
Rock thread bit (R22, R25, R28, R32, R35, R38, T38, T45,T51, ST58,GT60)
Extension Rod, M/F Rod, M/m Rod, Drift Rod,
Shank adapter, coupling sleeves and all kinds of adapters
Advantages:
Compared with the oversea brands, our advantages are bellowing:
a. Our products can match over 95% against the original products
b. Price are competitive against the famous brands and best quality against the small factory
About Us:
1. Our factory has been specialized in manufacturing drilling tools and spare parts for over 10 years.
2. We have advanced technology and equipment.
3. Our technician has more than 13 year's professional working experience.
4. Rock drilling tools are exported throughout the world. Main market: Norway, Turkey, USA, Canada, Australia, Brazil, Uruguay, Iran, Philippines, Thailand, India, etc.