Description:
Drill bits (drilling bits) for augers, buckets, core barrels products of rotary driling rig and other machine.
(1) Betek Teeth: B47K17.5, B47K17.5H, B47K17.5-H/2, B47K17.5LK70-H, B47K19-H, B47K19LK80-H, B47K22-H, B47K22-H/2, BTK01, BTK03, BTK10, BTK70, BTK81, BTK89, BSH09, BSH05, BSK12, BSK15, BSK17, BSK21, BSK16, BTR08, BTR02, BTR03, BTR01, BM55, BM60, BM34, BM62, BM11, BM10, BM46.
(2)TYSIM Tools: CMB4, CM42, C23, C21HD, C20, C21, SL02, SL04, SM02,C21F, C21FHD, C21F11NB, C24, C20HD, RS15, RS16, RS17, RS18, RS14, C3KBF, RP21, RP22, RL11, RL06, RL10, RL07, RL09, RL08, RL04, C10HD, C10H, C10, C10AMC, C10AM/LG, SM05, SM06, SM02, SM01, C87KCSBSR, C87DSSR, C87G, C87B, AR150 87, AR150 87ST, C87E, C87HDS, C87RL, C10AM/LG, C87HDG, C32, C31, C31HD, U40HD, AUC40KH, CH31SR, C31RHD, C31FSRHD, C34FSR, C36R, C35R, C34R, C30, C30H/U40H, C30HDW50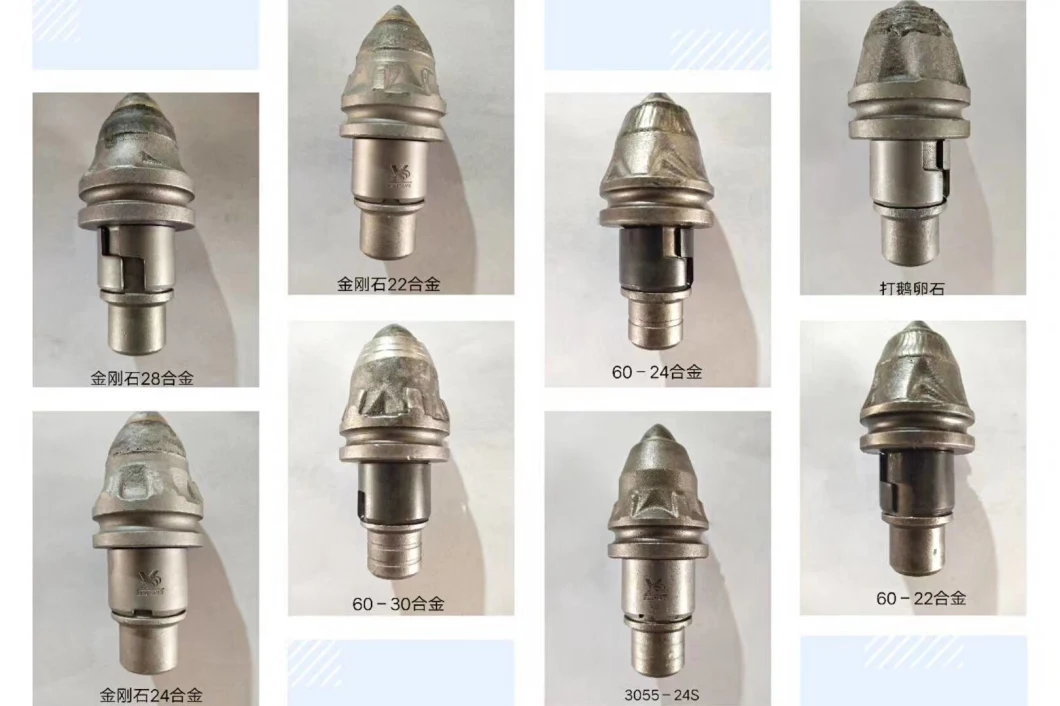 Application
Used as teeth on drilling bullets, coring barrels and augers for foundation drilling and piling.
Product Features
The bucket can be designed in cylindrical type and conical type depend on bucket diameter ,type of drill rig and formation to be drilled.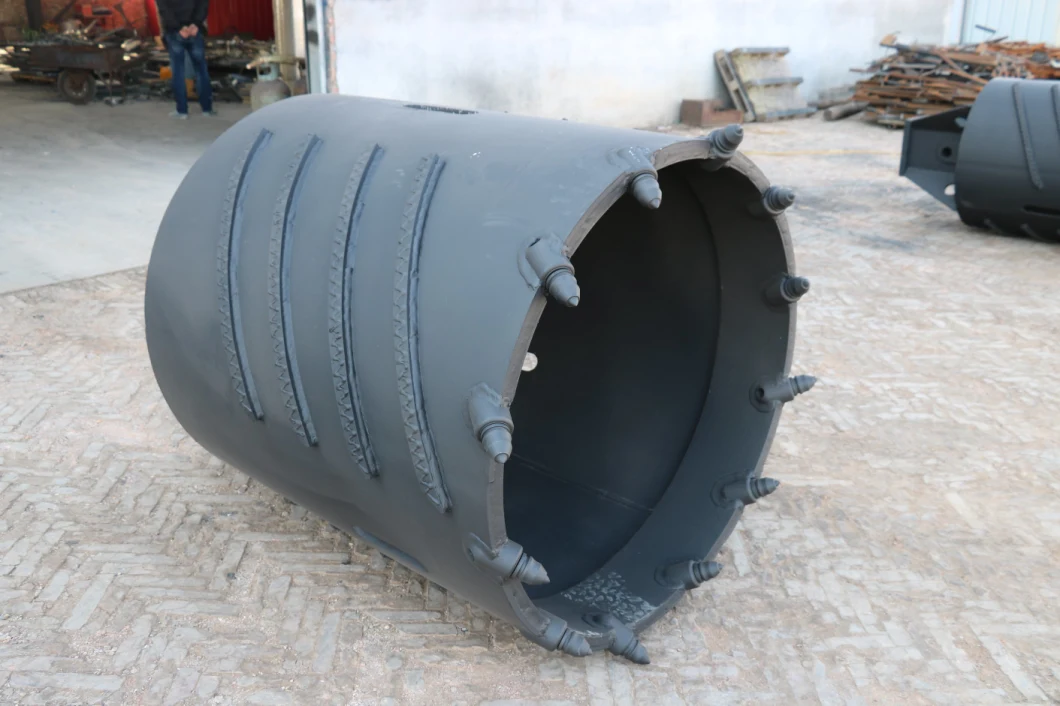 Technical Specification of Drilling Buckets with soil drilling Teeth

drilling Dia.

Shell Length

Shell Thickness

Weight

(mm)

(mm)

(mm)

(kg)

600

1200

16

640

800

1200

16

900

900

1200

16

1050

1000

1200

16

1200

1200

1200

16

1550

1500

1200

16

2050

1800

1000

20

2700

2000

800

20

3260
Construction Photos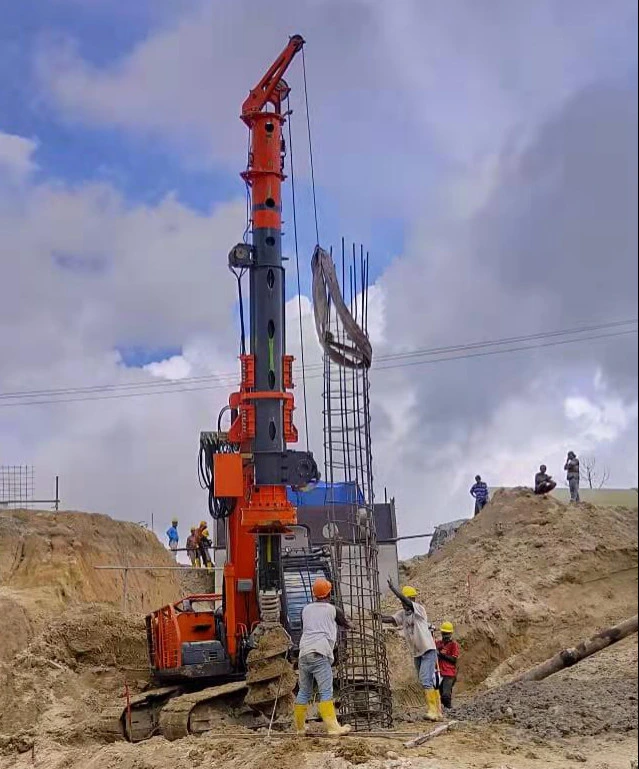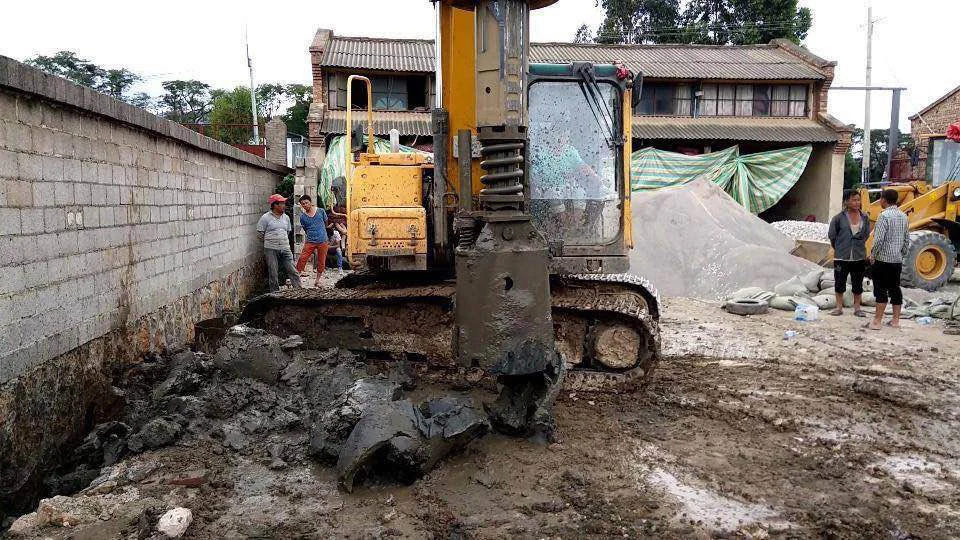 Our Advantages
With the help of experienced team of engineers and well-supervised production team, Drillmaster has a greater ability to produce top-quality foundation drilling tools.
High-quality welding and finishing throughout the drilling tool is very important to increase the life of the Drilling tool.
Wear resisting strips on the drilling tool help to minimize the wearing out of body of the drilling tools.
Each different type of drilling tool is designed to meet maximum possible variations in the soil for specific job-site conditions.
The angle of attack of drilling bits are variable according to the type of soil/rock to generate maximum efficiency during drilling.
Each drilling bit is positioned at a specific angle on the bottom plate to make sure there is minimum wearing out and breakage of the drilling bits or holders.
Drillmaster manufactured rock drilling buckets or augers have all the bits at the correct 6 angels, which have been found out after a series of drilling tests performed in hard rock to facilitate rotation during drilling.
Drillmaster provides an on-time after sales service when/if required by the customers for any issues.
Packing & Shipping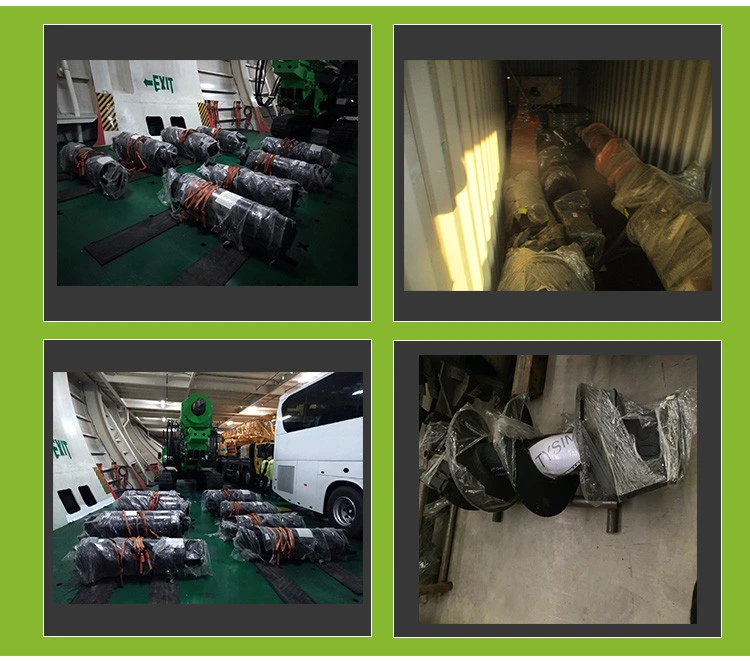 Company
TYSIM manufactures a complete range of cemented tungsten carbide replacement wear parts for foundation drill, mining and tunneling, trenching, road milling industries. We not just produce and sell, we pride ourselves on delivering productivity and efficiency and value. At SMSCC, we have a very simple philosophy: provide the best possible product at the best possible price. By strict process control and using the strongest materials, our products are manufactured to the high quality standards that our global customers always rely on.

The history of TYSIM began in year 2009, is one of the leading manufacturers of tungsten carbide tools for the foundation and road construction, mining and drilling industries. We aim to be one of the most important global players with well-respected brand names in the market.

Customer Visits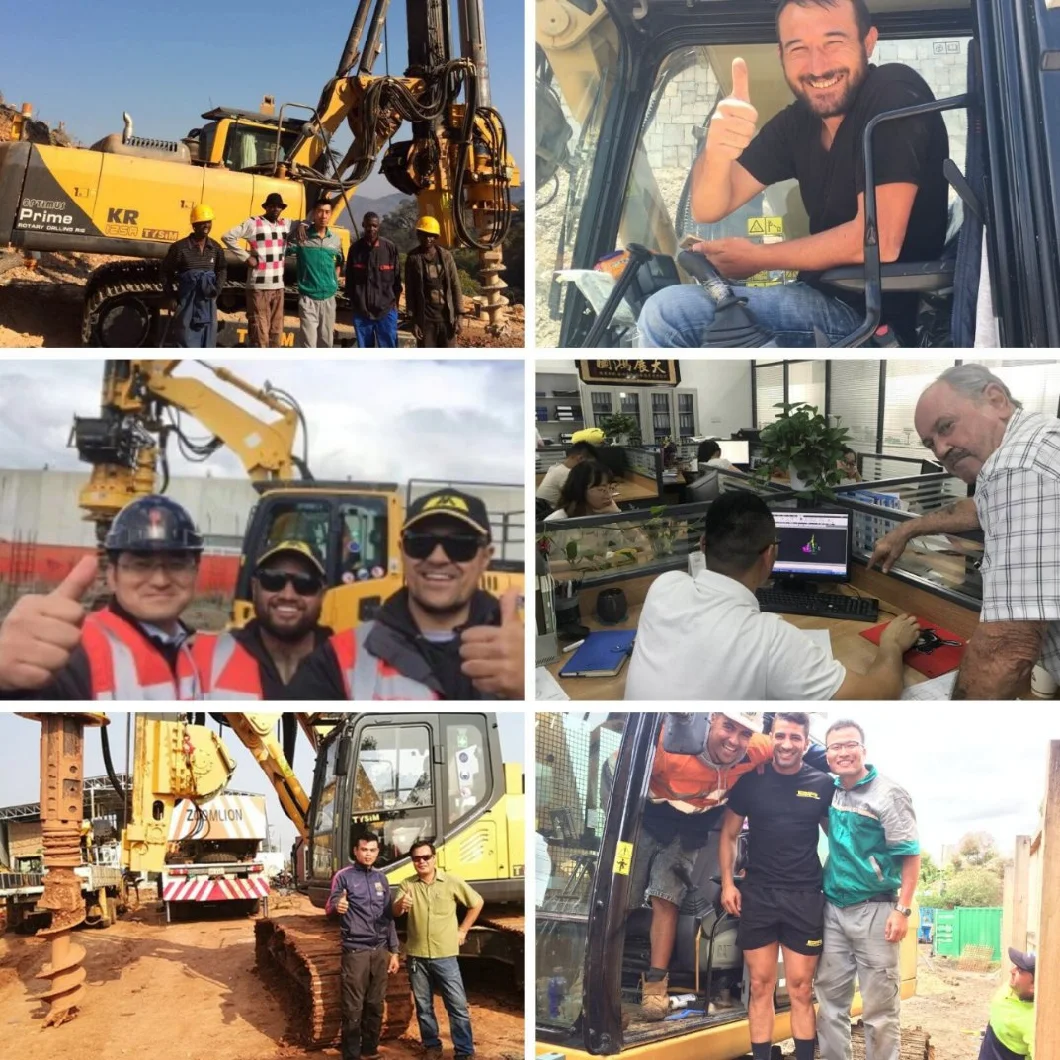 Exhibition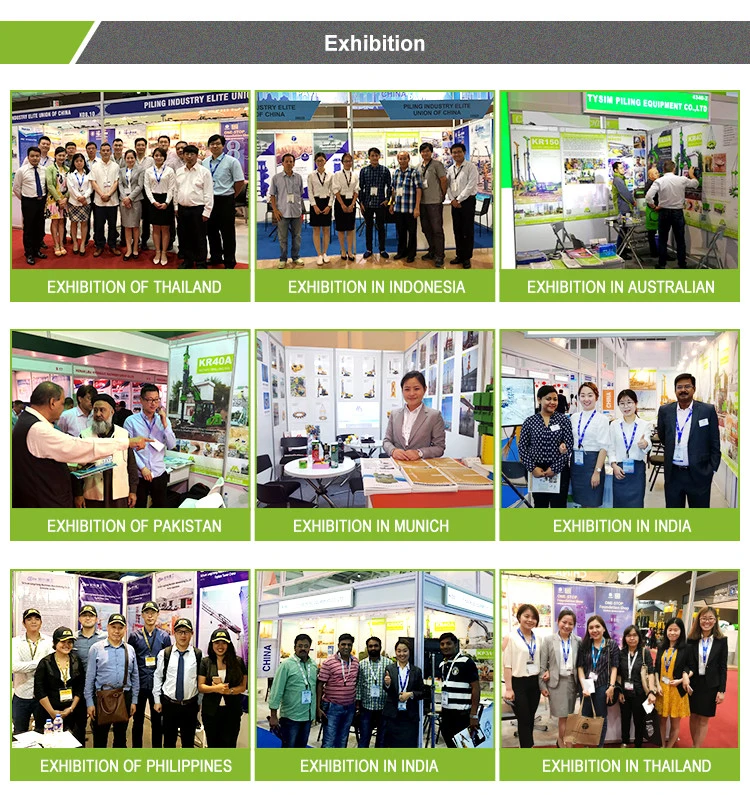 Certificate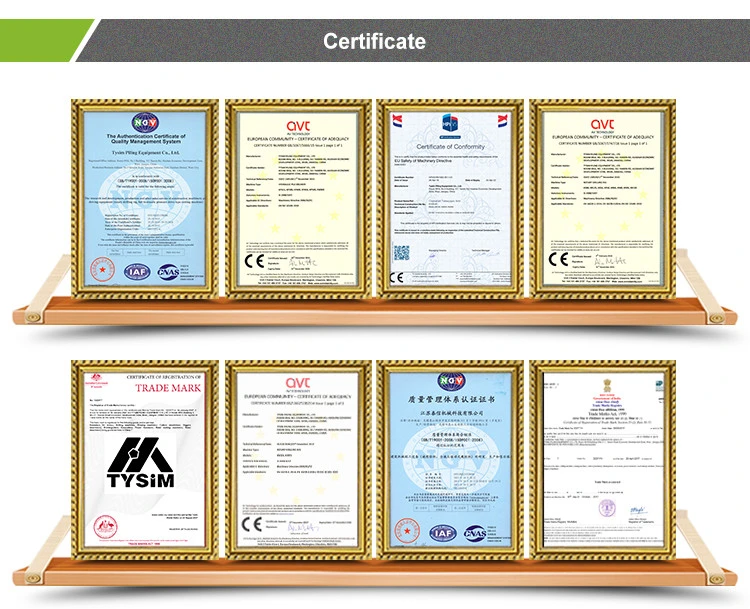 FAQ:
1.What kind of drilling tools can we provide?
Ans.: We can provide drilling tools for almost all the brand rotary drilling rig, In addition to the above model specifications, our company can produce special specification products to customer requirements.
2.What is the advantages of our products?
Ans.:We use super quality raw material, which makes the drilling tools more durable and our drilling tools with competitive price. No matter you are dealers or end user, you will get the biggest profit.
3. What is the lead time?
Ans.: Usually the lead time is 7-10 days after receipt of your payment.
5.What payment terms do we accept?
Ans.: We accept T/T in advance or L/C at sight.