Taper Drill Bits

Our taper drilling tools include taper drill bits and taper drill rod,and taper drill bits come into two types,taper button drill bits,taper chisel drill bits.These drill tools are mainly equipped on rock drilling equipment,well drilling equipment and oil field equipment.They are widely used for rock drilling,blasting holes and other drill works in quarries,coal mines,rod and dam constructions and other similar projects.
Description:
Comparing with tapered chisel bits and tapered cross bits, button bits has higher technology, much longer primary drilling time and higher drilling efficiency, so that the button bit is popular among the users.
Made with high quality of raw material through special heat treatment ,especially, tungsten carbide of tapered button bits are from Boart long year,widely applied in Hand Hold ( short-hole) drilling system for dimensional stone quarrying. At now, we are exporting the huge qty of Q7- 33- 7 22-80 , Q9 -45 -12 22- 71 for Indian quarry and Norway, Finland quarry.
Diameter of bits from 30mm to 50mm with 4 ,6,7,11,12 degree, premium alloy tapered drill steel with Hexagonal.22mm and Hexagonal.25mm,The deliver capacity are very strong and can completely meet customer's requirements on delivery design,number of buttons is 4,5,6,7,8,9,7 buttons is very popular for hold held (short holes ) and blast drilling system.
Main Products:
1-12 inch middle-low/high air pressure DTH hammers & bits
Big hole high air pressure DTH hammer using in water well, oil, gas and construction drilling
Eccentric overburden drilling Equipment
Hole opener bit
Rock thread bit (R22, R25, R28, R32, R35, R38, T38, T45,T51, ST58,GT60)
Extension Rod, M/F Rod, M/m Rod, Drift Rod,
Shank adapter, coupling sleeves and all kinds of adapters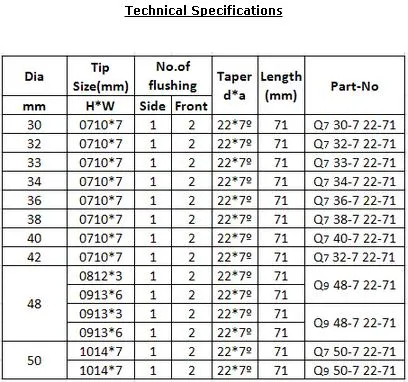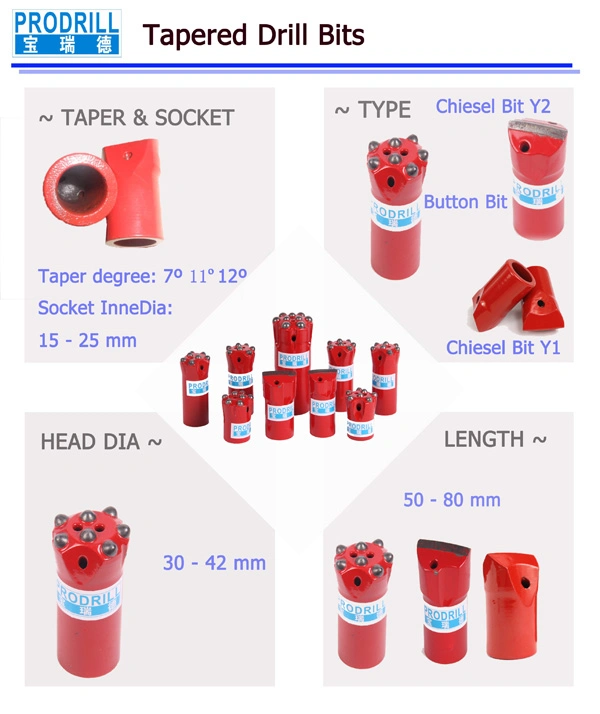 Advantages:
Compared with the oversea brands, our advantages are bellowing:
a. Our products can match over 95% against the original products
b. Price are competitive against the famous brands and best quality against the small factory
About Us:
1. Our factory has been specialized in manufacturing drilling tools and spare parts for over 10 years.
2. We have advanced technology and equipment.
3. Our technician has more than 13 year's professional working experience.
4. Rock drilling tools are exported throughout the world. Main market: Norway, Turkey, USA, Canada, Australia, Brazil, Uruguay, Iran, Philippines, Thailand, India, etc.
Product Name:
T ungsten carbides tapered drill bit
Types
R ock cross drill bit, Tapered cross bits, Tapered button bits/ 34mm button drill bit
Application::
U se in granite and marble quarry, gold mine, railway, tunnel, etc. for drilling
Feature:
Tapered drill bits connect tapered drill steel of rock drill for drilling holes
Material:
High quality carbide and high quality steel
MOQ:
5pcs
We can design and manufacture according to your requirement of diameter, number air holes and carbide button shape.
Types of drill bits
Diameter (mm)
Taper Angle (Degree)
Length (mm)
Tapered chisel bits
20/22/28/30/32/34/36/38/40
4 degree/ 6 degree/ 7 degree/ 11 degree/ 12 degree
50/55/60/71/80
Tapered cross bits
24/26/28/30/32/33/34/35/36/3/38/40/42/48/50/55
50/55/60/71/80
Tapered button bits
28/29/30/32/33/34/35/36/37/38/40/41/42/45
50/55/60/71/80